Spettacolo
CINEMAGIA Movie Awards 2021
Conclusa la 1^ edizione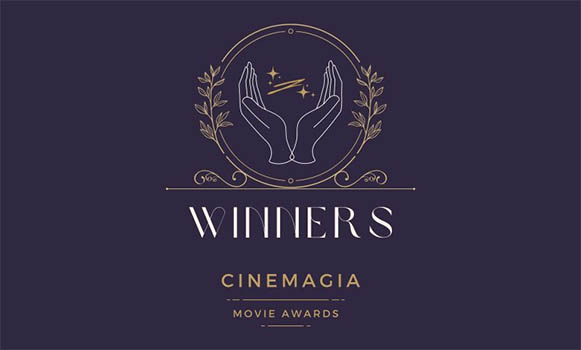 Roma, 5 gennaio 2022 – Si è conclusa la prima edizione dei "CINEMAGIA Movie Awards", il nuovo festival di Cinema Indipendente che ha letteralmente elettrizzato tutto il mondo del Cinema Indipendente Internazionale.
CINEMAGIA Movie Awards nasce, grazie ad un'intuizione del suo Direttore Artistico Daniele Gangemi, come costola della piattaforma CINEMAGIA ONLINE del produttore Claudio Bucci, e della Presidente Inessa Gordè.
La giuria, presieduta dal Prof. Ugo Di Tullio (Docente di Organizzazione e Legislazione dello Spettacolo Cinematografico all'Università di Pisa, Coordinatore del Corso di Alta Formazione in Post Produzione e Restauro Cinematografico dell'Università Suor Orsola Benincasa di Napoli, Presidente della Fondazione Angeletti e Direttore Responsabile di TGMUSIC & MOVIE) e composta dal Make-Up and Hair Designer di fama internazionale Vittorio Sodano (Due volte nominato agli Oscars, nel 2007 per "Apocalypto" di Mel Gibson e nel 2010 per "Il divo" di Paolo Sorrentino, e membro della prestigiosa '"Academy of Motion Pictures Arts and Sciences" dal 2017), Heidrun Schleef (Sceneggiatrice di punta nel panorama del cinema italiano d'autore, vincitrice di due Nastri d'Argento) e Federica Bianchini (Classe '99, in rappresentanza della categoria "Young").
A completare la squadra si sono messi da subito a disposizione dell'ambizioso progetto anche il famoso Creative Producer Roberto Bessi, da sempre punto di riferimento per le produzioni cinematografiche nazionali ed internazionali, e l'infaticabile Project Manager Caterina Maria Grillo, attiva nel campo dell'organizzazione dei festival cinematografici internazionali già dal 2018.
Di seguito i vincitori:
PICTURE SECTION
– Best Picture: SELFIEMANIA di Francesco Colangelo, Elisabetta Pellini, Elly Senger-Weiss e Willem Zaeyen (Austia – Italia – Russia)
– Audience awards for Best Picture: UMAMI. il quinto sapore di Angelo Frezza (Italia) – Best Director: ALESSANDRO DERVISO per L'amore al tempo di Sh.Rek (Italia)
– Best Screenplay: CHARLES GUERIN SURVILLE per SINCERITA (Francia)
– Best Leading Actor: ANGELO ORLANDO per UMAMI (Italia)
– Best Actress in a Leading Role: CATERINA MURINO per SELFIEMANIA (Italia)
– Best Supporting Actor: ENRICO OETIKER per UMAMI (Italia)
– Best Supporting Actress: JEANNE DAMAS per SINCERITA (Francia)
– Best Cinematography: GIANNI MAMMOLOTTI per SELFIEMANIA (Italia)
– Best Film Editing: ALESSANDRO DERVISO per L'amore al tempo di Sh.Rek (Italia)
– Best Original Score: THE NIRO per SEFLIEMANIA (Italia)
DOCUMENTARY SECTION
– Best Documentary: MATRICOLA ENPALS 79031 di Fabrizio Borni (Italia)
– Audience awards for Best Documentary: HOCU RANDA MEU SOUL ON FIRE di Linda Papaleo (Italia)
– Best Director: TOMASO MANNONI per THE WASH (Italia)
– Best Screenplay: MATTEO ABBONDANZA per TIJUANA (Italia)
SHORT FILM SECTION
– Best Short Film: FREUNDE di Lavinia Zammataro (Italia)
– Audience awards for Best Short Film: LOCKDOWNLOVE . IT di Anna Marcello (Italia)
– Best Director: FRANCESCO COLANGELO per ONCE (in my life) (Italia)
– Best Screenplay: GIOVANNI TROIA per COOKIE (Italia)
– Best Leading Actor: Jean-Marc Barr per Whoever Was Using This Bed di Andrew Kotatko (Australia)
– Best Actress in a Leading Role: ANGELICA CACCIAPAGLIA per INFELICI E CONTENTI (Italia)
– Best Supporting Actor: Vincenzo Bocciarelli per LOCKDOWNLOVE.IT (Italia)
– Best Supporting Actress: Electra Mitsimari per Just Like Water di Manos Triantafillakis (Grecia)
– Best Cinematography: VLADIMIR DI PRIMA per FREUNDE (Italia)
– Best Film Editing: Alexander Grov per Casu di Magnus Møller Bakke (Norvegia)
– Best Hairstyling: Cristiano Pieri per LOCKDOWNLOVE . IT di Anna Marcello (Italia)
– Best Costume Design: VIVIANA PETILLO per THE MAGIC CROWN (Italia)
– Best Production Design: Wu Bofu per《AFTER THE DARK CLOUDS》di Xiang YiZhuo e Gao PengCheng (Cina)
– Best Sound Mixing: SOUND – IL SUONO DEL SUD per ONCE (IN MY LIFE) (Italia)
– Best Original Score: ALESSANDRO GUARINO per "TANGO X" (Italia)
ANIMATED SHORT FILM SECTION
Best Animated Short Film: A COIN di Lu Yuqiao (Cina)
Audience awards for Best Animated Short Film: PAINTING BY NUMBERS di Radheya Jegatheva (Australia)
HORROR SHORT FILM SECTION
– Best Horror Short Film: BEYOND THE DARKNESS di Davide Torriero Pompa (Italia)
– Audience awards for Best Horror Short Film: B&B BROKEN BREAKFAST di Ciro Tomaiuoli (Italia)
MUSIC VIDEO SECTION
– Best Music Video: SOLITUDE di Fabio Grossi (Italia)
– Audience awards for Best Music Video: INVINCIBLE di Ekaterina Behor (Stati Uniti d'America)
WEB PILOT SECTION
– Best Web Pilot: JOHNNY MATTEL'S di Vittorio Adinolfi ed Umberto Santacroce (Italia)
– Audience awards for Best Web Pilot: JOHNNY MATTEL'S di Vittorio Adinolfi ed Umberto Santacroce (Italia)
CINEMAGIA Movie Awards for Iranian Directors
Award for Iranian Directors: SAVE ME! Di Mohsen Nabavi (Iran)
Audience Award or Iranian Directors: Appetite di Pariya Shojaeian