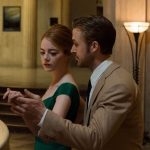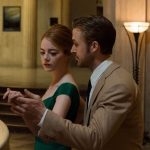 dalla nostra corrispondente da Los Angeles, Stella S.
Los Angeles, 24 gennaio 2017 – "La La Land" batte il record delle nominations nell'89esima edizione dell'Academy Awards  superando di 4 l'acclamato film "The Sound of Music" della 38esima edizione dell'Academy Awards..
"La La Land" merita d'essere considerato il miglior film dell'anno. Nelle nominations il film include le categorie come miglior Film, miglior regia Damien Chazelle, miglior attore protagonista, Ryan Gosling,  miglior attrice protagonista, Emma Stone. Inoltre il film riceve tre nominations nella categoria  musica: miglior colonna sonora, sound mixing e editing.
In seconda posizione con 8 nominations sono " Moonlight" e " Arrival". 
Con 6 nominations abbiamo "Hacksaw Ridge"  e " Lion" e "Manchester by the Sea". "Fences" e "Hell or High Water" ne ricevono  4. Meryl Streep è ancora in campo nominata come miglior attrice nel ruolo di protagonista.
Le altre nominations sono quasi simili a quelle del Golden Globe, eccetto la sorpresa dell'entrata in lizza per l'Italia del  documentario "Fire at Sea".
Miglior Film
"La La Land"
"Moonlight"
"Manchester by the Sea"
"Arrival"
"Fences"
"Lion"
"Hidden Figures"
"Hacksaw Ridge"
"Hell or High Water"

Miglior attrice protagonista
Natalie Portman, "Jackie"
Emma Stone, "La La Land"
Isabelle Huppert, "Elle"
Meryl Streep, "Florence Foster Jenkins"
Ruth Negga, "Loving"
Miglior attore protagonista
Ryan Gosling, "La La Land"
Casey Affleck, "Manchester by the Sea"
Denzel Washington, "Fences"
Andrew Garfield, "Hacksaw Ridge"
Viggo Mortensen, "Captain Fantastic"
Miglior regia
Damien Chazelle, "La La Land"
Barry Jenkins, "Moonlight"
Denis Villeneuve, "Arrival"
Kenneth Lonergan, "Manchester by the Sea"
Mel Gibson, "Hacksaw Ridge"
Miglior attrice non protagonista
Viola Davis, "Fences"
Michelle Williams, "Manchester by the Sea"
Octavia Spencer, "Hidden Figures"
Naomie Harris, "Moonlight"
Nicole Kidman, "Lion"
Miglior attore non protagonista
Mahershala Ali, "Moonlight"
Jeff Bridges, "Hell or High Water"
Lucas Hedges, "Manchester by the Sea"
Dev Patel, "Lion"
Michael Shannon, "Nocturnal Animals"
Miglior documentary short subject
"The White Helmets"
"Extremis"
"Watani: My Homeland"
"4.1 Miles"
"Joe's Violin"
Miglior documentario
"O.J.: Made in America"
"13th"
"I Am Not Your Negro"
"Fire at Sea"
"Life Animate"
Miglior film in lingua straniera
"Toni Erdmann"
"The Salesman"
"Land of Mine"
"A Man Called Ove"
"Tanna"
Miglior film d'animazione
"Zootopia"
"Kubo and the Two Strings"
"Moana"
"The Red Turtle"
"My Life as a Zucchini"

Miglior sceneggiatura adattata
"Moonlight," Barry Jenkins
"Arrival," Eric Heisserer
"Lion," Luke Davies
"Fences," August Wilson
"Hidden Figures," Allison Schroeder and Theodore Melfi
Miglior sceneggiatura
"La La Land," Damien Chazelle
"Hell or High Water," Taylor Sheridan
"Manchester by the Sea," Kenneth Lonergan
"The Lobster," Yorgos Lanthimos and Efthymis Filippou
"20th Century Women," Mike Mills
Miglior canzone originale
"How Far I'll Go," "Moana"
"City of Stars," "La La Land"
"Audition (The Fools Who Dream)," "La La Land"
"Can't Stop the Feeling!" "Trolls"
"The Empty Chair," "Jim: The James Foley Story"
Miglior colonna sonora
"La La Land," Justin Hurwitz
"Moonlight," Nicholas Britell
"Lion," Dustin O'Halloran and Hauschka
"Jackie," Mica Levi
"Passengers," Thomas Newman
Miglior cinematography
"Moonlight," James Laxton
"La La Land," Linus Sandgren
"Arrival," Bradford Young
"Silence," Rodrigo Prieto
"Lion," Greig Fraser
Miglior  production design
"La La Land," David Wasco and Sandy Reynolds-Wasco
"Fantastic Beasts and Where to Find Them," Stuart Craig and Anna Pinnock
"Arrival," Patrice Vermette and Paul Hotte
"Hail, Caesar!,"  Jess Gonchor and Nancy Haigh
"Passengers," Guy Hendrix Dyas and Gene Serdena
Migliori visual effects
"The Jungle Book," Robert Legato, Adam Valdez, Andrew R. Jones and Dan Lemmon
"Rogue One: A Star Wars Story," John Knoll, Mohen Leo, Hal Hickel and Neil Corbould
"Doctor Strange," Stephane Ceretti, Richard Bluff, Vincent Cirelli and Paul Corbould
"Deepwater Horizon," Craig Hammack, Jason Snell, Jason Billington and Burt Dalton
"Kubo and the Two Strings," Steve Emerson, Oliver Jones, Brian McLean and Brad Schiff
Miglior costume design
"La La Land," Mary Zophres
"Fantastic Beasts and Where to Find Them," Colleen Atwood
"Florence Foster Jenkins," Consolata Boyle
"Jackie," Madeline Fontaine
"Allied," Joanna Johnston
Miglior makeup and hair styling
"Star Trek Beyond," Joel Harlow and Richard Alonzo
"Suicide Squad," Alessandro Bertolazzi, Giorgio Gregorini and Christopher Nelson
"A Man Called Ove," Eva von Bahr and Love Larson
Miglior  short film animato
"Piper"
"Pearl"
"Borrowed Time"
"Pear Cider and Cigarettes"
"Blind Vaysha"
Miglior  live action short film
"Timecode"
"Sing (Mindenki)
"Silent Nights"
"Ennemis Interieurs"
"La Femme et le TGV"
Miglior film editing
"La La Land," Tom Cross
"Moonlight," Nat Sanders and Joi McMillon
"Hacksaw Ridge," John Gilbert
"Arrival," Joe Walker
"Hell or High Water," Jake Roberts
Miglior sound editing
"La La Land," Ai-Ling Lee and Mildred Iatrou Morgan
"Hacksaw Ridge," Robert Mackenzie and Andy Wright
"Arrival," Sylvain Bellemare
"Sully," Alan Robert Murray and Bub Asman
"Deepwater Horizon," Wylie Stateman and Renée Tondelli
Miglior sound mixing
"La La Land," Andy Nelson, Ai-Ling Lee and Steve A. Morrow
"Hacksaw Ridge," Kevin O'Connell, Andy Wright, Robert Mackenzie and Peter Grace
"Rogue One: A Star Wars Story," David Parker, Christopher Scarabosio and Stuart Wilson
"Arrival," Bernard Gariépy Strobl and Claude La Haye
"13 Hours: The Secret Soldiers of Benghazi," Greg P. Russell, Gary Summers, Jeffrey J. Haboush and Mac Ruth
Miglior  live action short film
"Timecode"
"Sing (Mindenki)"
"Silent Nights"
"Ennemis Interieurs"
"La Femme et le TGV"