AFI FEST 2018 presentato da Audi apre la stagione degli Awards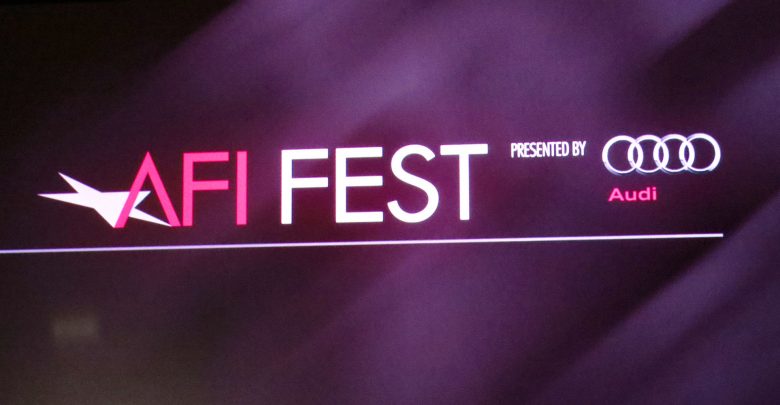 Dalla nostra corrispondente da Los Angeles, Stella S.
Los Angeles, 7 novembre 2018 – L'Afi Fest dall'8 al 15 novembre offre il meglio del cinema internazionale in varie categorie: World Cinema, Special screening, Cinema Lagacy Lineup presenta quest'anno i film classici restaurati diretti da donne, Midnight.
La World Premiere di ON THE BASIS OF SEX (diretto dall'alunna dell' AFI Conservatory Mimi Leder) aprirà la serata di Gala del festival mentre al Gala di chiusura del Festival si assisterà alla World Premiere di MARY QUEEN OF SCOTS (directed by Josie Rourke). I Gala includono altri due film in prima mondiale :" BIRD BOX" e "THE KOMINSKY METHOD"
Nella lista delle proiezioni di Gala nel programma s'includono BIRD BOX (DIR Susanne Bier); THE KOMINSKY METHOD (creato da Chuck Lorre); THE BALLAD OF BUSTER SCRUGGS (DIR Ethan Coen, Joel Coen); GREEN BOOK (DIR Peter Farrelly); e WIDOWS (DIR Steve McQueen). Le proiezioni Gala saranno presentate al TCL Chinese Theatre.
BIRD BOX – Quando una forza misteriosa elimina la pololazione, si è certi di una cosa sola: Se lo vedi,prende la tua vita. Malorie e I suoi figli affrontano la creatura capace d'orrificare chiunque ad occhi chiusi . Sandra Bullock,vincitrice di un Academy Award, è la protagonista nel film prodottoda Netflix, ed è affiancata da un cast di stars:Trevante Rhodes, Sarah Paulson,John Malkovich in questo triller diretto dalla vincitrice di un Academy Award , Susanne Bier.
THE KOMINSKY METHOD – I vincitori di un Academy Award Michael Douglas (Kominsky) Alan Arkin (Newlander) nella parte dei famosi agenti non che amici:, Kominsky e Newlander uniti nell'affrontare situazioni obbligate nella Los Angeles del passato in questo film comico ed emozionale. Prodotto da Netfix, "Kominsky Method's" l'ottavo episodio della serie, la storia è stata creata dall'otto volte nominato all'Emmy: Chuck Lorre, scritta da Higgins, David Javerbaum e Lorre.L'Afi presenteràtre episodi della serie.
THE BALLAD OF BUSTER SCRUGGS – E la sesta parte dell'antologia dell'America di frontiera dell'West diretta dalle caratteristiche inconfondibili dei registi Ethan Coen, Joel Coen che trattano in ogni capitolo un episodio.
GREEN BOOK – Viggo Mortensen, Academy Award nominato e il vincitore di un Academy Award® Mahershala Ali, interpretano I personaggi di Tony Lip (Mortensen) e Dr. Don Shirley (Ali), Tony viene assunto come autista per portare Dr. Don Shirley (Ali), un esparto pianist di colore in un tour di concerti pianistici da Manhattan fino al profondo Sud In his foray into powerfully dramatic work as a feature director, Peter Farrelly helms the film inspired by a true friendship that transcended race, class and the 1962 Mason-Dixon line. When Tony Lip (Mortensen), è assunto come autista per portare Dr. Don Shirley (Ali), un esparto pianist di colore in un tour di concerti pianistici da Manhattan fino al profondo Sud. Basato su ina storia vera il film è diretto da Peter Farrelly .
WIDOWS – Diretto dal vincitore di un Academy Award, Steve McQueen, (12 YEARS A SLAVE) e co-scrittore con Gillian Flynn di ("Gone Girl") comes a blistering, modern-day thriller set against the backdrop of crime, passion and corruption. WIDOWS è la storia di 4 donne con nulla in commune eccetto I debiti lasciati dai loro mariti morti in azioni criminali. Girato in Cicago ai giorni nostri si avvale della partecipazione delle attrici nella parte di Veronica ( Viola Davis vincitrice di un Oscar), Linda (Michelle Rodriguez), Alice (Elizabeth Debicki) Belle (Cynthia Erivo) .
Il festival presenterà una serata con Nicole Kidman,che oltre alla proiezione al Gala del film "Destroyer" diretto da Karyn Kusama, l'attrice parlerà della sua esperienza in questo suo ultimo lavoro.
WORLD CINEMA
La sezione World Cinema showcases celebra i films internazionali dell'anno con i 28 titoli di 27 Nazioni.Il programma include sette migliori film scelti per la selezione agli Oscar come Best Foreign Language: CAPERNAUM (DIR Nadine Labaki), DOGMAN (DIR Matteo Garrone), "I DO NOT CARE IF WE GO DOWN IN HISTORY AS BARBARIANS" (DIR Radu Jude), NEVER LOOK AWAY (DIR Florian Henckel von Donnersmarck), SHOPLIFTERS (DIR Hirokazu Kore-eda), SUNSET (DIR László Nemes) and THE WILD PEAR TREE (DIR Nuri Bilge Ceylan).
AFI FEST presenterà la North American premiere dei primi due episodi di " MY BRILLIANT FRIEND "In visione all'HBO novembe 18, la serie è un adattamento dell'autore Elena Ferrantès delcelebrated international bestseller internazionale della complicata storia di un'amicizia tra due donne durante decenni.
WORLD CINEMA
3 FACES (SE ROKH) – Jafar Panahi e l'Iraniana attrice Behnaz Jafari in un viaggio verso un piccolo villaggio nel nordwest dell'Iran per scoprire la ragione del suicidio di una giovane attrice.Il film è diretto e scritto da Jafar Panahi. CAST Behnaz Jafari, Marziyeh Rezaei, Narges Del Aram, Jafar Panahi, Maedeh Erteghaei. Iran
AMATEURS (AMATÖRER) – Quando degli investitori tedeschi interessati ad investire nella costruzione di un superstore nella piccolo cittadina di Lafors, la comunità decide di creare un video promozionale.La regista e autrice Gabriela Pichler ritorna all' AFI FEST con una idea interessante. CAST Zahraa Aldoujaili, Yara Aliadotter, Fredrik Dahl. Sweden
ANGELS ARE MADE OF LIGHT – Girato in tre anni è l'ultimo documentaio di James Longley e segue student e insegnanti nella scuola di un vecchio quartiere di Kabul. Diretto da James Longley. USA, Denmark, Norway
ASH IS PUREST WHITE (JIANGHU ER NV) – Jia Zhang-ke è nuovamente all'AFI FESTcon uno speciale masterwork centrato nella struggente vita di Qiao (played by Zhao Tao), la girlfriend di un gangster impriginata per cinque anni.Direttp da Jia Zhang-ke. SCR Jia Zhang-ke. CAST Zhao Tao, Liao Fan, Xu Zheng. China, France
BULBUL CAN SING – DIR da Rima Das. SCR Rima Das CAST Arnali Das, Manoranjan Das, Bonita Thakuria, Pakija Begum. India
CAPERNAUM (CAPHARNAÜM) –È Diretto da Nadine Labaki. SCR Nadine Labaki, Jihad Hojeily, Michelle Kesrwany. CAST Zain Al Rafeea, Yordanos Shiferaw, Boluwatife Treasure Bankole, Kawthar Al Haddad, Fadi Kamel Youssef, Cedra Izam, Alaa Chouchnieh, Nadine Labaki, Nour el Husseini, Elias Khoury. Lebanon
DAUGHTER OF MINE (FIGLIA MIA) – DIR Laura Bispuri. SCR Francesca Manieri, Laura Bispuri. CAST Valeria Golino, Alba Rohrwacher, Sara Casu, Michele Carboni, Udo Kier. Italy, Germany, Switzerland
DIAMANTINO – DIR Gabriel Abrantes, Daniel Schmidt. SCR Gabriel Abrantes, Daniel Schmidt. CAST Carloto Cotta, Cleo Tavares, Anabela Moreira, Margarida Moreira, Carla Maciel, Filipe Vargas, Manuela Moura Guedes, Joana Barrios, Maria Leite. Portugal, France, Brazil
DOGMAN – Matteo Garrone è al festival con l'ultimo suo film interpretato da Marcello Fonte premiato a Cannes come miglior attore. DOGMAN sarà il film d'apertura del Cinema Italian Style con la partnership dell' AFI FEST con Cinema Italian Style, organizzato a Los Angeles. DIR Matteo Garrone. SCR Ugo Chiti, Maurizio Braucci, Matteo Garrone, Massimo Gaudioso. CAST Marcello Fonte, Edoardo Pesce, Nunzia Schiano, Adamo Dionisi, Francesco Acquaroli. Italy, France
FUGUE (FUGA) – DIR Agnieszka Smoczyńska. SCR Gabriela Muskała. CAST Gabriela Muskała, Łukasz Simlat, Iwo RajskiMałgorzata Buczkowska, Zbigniew Waleryś, Halina Rasiakówna, Piotr Skiba. Poland, Czech Republic, Sweden
GENESIS (GENÈSE) – DIR Philippe Lesage. SCR Philippe Lesage. CAST Noée Abita, Théodore Pellerin, Jules Roy-Sicotte, Maxime Dumontier, Edouard Tremblay-Grenier, Emilie Bierre, Pier-Luc Funk, Vassili Schneider, Mylène Mackay. Canada
HAPPY AS LAZZARO (LAZZARO FELICE) – DIR. Alice Rohrwacher. SCR Alice Rohrwacher. CAST Adriano Tardiolo, Agnese Graziani, Alba Rohrwacher, Luca Chikovani, Tommaso Ragno, Sergi López, Natalino Balasso, Gala Othero Winter, David Bennent, Nicoletta Braschi. Italy
HOTEL BY THE RIVER (GANGBYUN HOTEL) – DIR Hong Sang-soo. SCR Hong Sang-soo. CAST Ki Joo-bong, Kim Min-hee, Song Seon-mi, Kwon Hae-hyo, Yu Jun-sang, Park Ran, Shin Seok-ho. South Korea
"I DO NOT CARE IF WE GO DOWN IN HISTORY AS BARBARIANS" (ÎMI ESTE INDIFERENT DACA ÎN ISTORIE VOM INTRA CA BARBARI) – DIR Radu Jude. SCR Radu Jude. CAST Ioana Iacob, Alexandru Dabija, Alex Bogdan.Romania, Czech Republic, France, Bulgaria, Germany
MAYA –. DIR Mia Hansen-Løve. SCR Mia Hansen-Løve. CAST Roman Kolinka, Aarshi Banerjee, Alex Descas. France
MY BRILLIANT FRIEND (L'AMICA GENIALE) – DIR Saverio Costanzo. SCR Elena Ferrante, Francesco Piccolo, Laura Paolucci and Saverio Costanzo. CAST Valentina Acca, Antonio Buonanno, Gennaro Canonico, Pina Di Gennaro, Sarah Falanga, Luca Gallone. Italy
NEVER LOOK AWAY (WERK OHNE AUTOR) – DIR Florian Henckel von Donnersmarck. SCR Florian Henckel von Donnersmarck. CAST Tom Schilling, Sebastian Koch, Paula Beer, Oliver Masucci Saskia Rosendahl. Germany, Italy
NON-FICTION (DOUBLE VIES) –DIR Olivier Assayas. SCR Olivier Assayas. CAST Guillaume Canet, Juliette Binoche, Vincent Macaigne. France
OF FATHERS AND SONS – DIR Talal Derki. Germany, Syria, Lebanon
OUR TIME (NUESTRO TIEMPO) – Per la seconda volta torna con un progetto importante Carlos Reygadas alunno dell'AFI sia come regista e sceneggiatore.CAST Carlos Reygadas, Natalia López, Eleazar Reygadas, Rut Reygadas, Phil Burgers. Mexico, France, Germany, Denmark, Sweden
PIG (KHOOK) – DIR Mani Haghighi. SCR Mani Haghighi. CAST Hasan Majuni, Leila Hatami, Leili Rashidi, Parinaz Izadyar, Mina Jafarzadeh, Aynaz Azarhoosh.Iran
PUTIN'S WITNESSES (SVIDETELI PUTINA) –DIR Vitaly Mansky. SCR Vitaly Mansky. Latvia, Switzerland, Czech Republic
SHOPLIFTERS (MANBIKI KAZOKU) – Vincitore della Palme d'Or del 2018 al Cannes Film Festival è diretto da Hirokazu Koreeda.SCR Hirokazu Kore-eda. CAST Lily Franky, Sakura Ando, Jyo Kairi, Miyu Sasaki, Kiki Kirin. Japan
SUNSET (NAPSZALLTA) – DIR László Nemes. SCR László Nemes, Clara Royer, Matthieu Taponier. CAST Juli Jakab, Vlad Ivanov, Evelin Dobos, Marcin Czarnik, Judit Bárdos, Benjamin Dino, Balázs Czukor, Christian Harting, Levente Molnár. Hungary, France
TOO LATE TO DIE YOUNG (TARDE PARA MORIR JOVEN) –. DIR Dominga Sotomayor. SCR Dominga Sotomayor. CAST Demian Hernández, Antar Machado, Magdalena Tótoro. Chile
VISION – Juliette Binoche è la protagonista del film diretto da Naomi Kawase. SCR Naomi Kawase. CAST Juliette Binoche, Masatoshi Nagase. Japan, France
THE WILD PEAR TREE (AHLAT AGACI) – Nuri Bilge Ceylan ha vinto la Palme d'Or per la regia del film .SCR Akin Aksu, Ebru Ceylan, Nuri Bilge Ceylan. CAST Aydin Doğu Demirkol, Murat Cemcir, Hazar Ergüçlü, Serkan Keskin, Tamer Levent, Akin Aksu, Öner Erkan, Ahmet Rifat Şungar, Kubilay Tunçer, Kadir Çermik, Özay Fecht, Ercüment Balakoğlu, Asena Keskinci. Turkey
YARA – DIR Abbas Fahdel. SCR Abbas Fahdel. CAST Michelle Wehbe, Elias Freifer, Mary Alkady. Lebanon, Iraq, France
SPECIAL SCREENINGS
THE COLD BLUE –COLD WAR – DIVIDE AND CONQUER: THE STORY OF ROGER AILES – ENEMIES: THE PRESIDENT, JUSTICE & THE FBI –EVERYBODY KNOWS (TODOS LO SABEN) – THE FAVOURITE –I AM THE NIGHT -ROMA –STAN & OLLIE –UNDER THE SILVER LAKE VOX LUX –
CINEMÀS LEGACY
THE CRUZ BROTHERS AND MISS MALLOY – DIR Kathleen Collin SCR Kathleen Collins, Henry H. Roth, Jo Tavener. CAST Rae Ferguson, Sylvia Field, Cesar Gonzalez, Susan Hurst, Susan Lukas, Jose Machado. USA
DRYLONGSO –DIR Cauleen Smith. SCR Salim Akil, Cauleen Smith.CAST Toby Smith, April Barnett, Will Power. USA
THE JUNIPER TREE (EINITREO) .DIR Nietzchka Keene.SCR Nietzchka Keene. CAST Björk Gudmundsdottir, Bryndis Petra Bragadottir, Valdima Orn Flygenring, Gudrun S. Gisladottir, Geirlaug Sunna Pormar. Iceland
MEETINGS OF ANNA (LES RENDEZ-VOUS D'ANNA). DIR Chantal Akerman. SCR Chantal Akerman CAST Aurore Clément, Helmut Griem, Magali Noël. France, Belgium, West Germany
NITRATE KISSES – Segna il debutto della famosa regista Barbara hammer er New 16mm print courtesy of the Academy Film Archive. DIR Barbara Hammer. USA
QUEEN OF DIAMONDS – DIR Nina Menkes. SCR Nina Menkes. CAST Tinka Menkes, Emellda J. Beech. USA
MIDNIGHT
CAM –. DIR Daniel Goldhaber. SCR Isa Mazzei, Daniel Goldhaber. CAST Madeline Brewer, Patch Darragh, Melora Walters, David Druid, Imani Hakim, Michael Dempsey. USA
IN FABRIC –. DIR Peter Strickland. SCR Peter Strickland. CAST Gwendoline Christie, Marianne Jean-Baptiste, Hayley Squires, Leo Bill. UK
KNIFE+HEART (UN COUTEAU DANS LE COEUR) . DIR Yann Gonzalez. SCR Yann Gonzalez, Cristiano Mangione.CAST Vanessa Paradis, Nicolas Maury, Kate Moran, Jonathan Genet, Khaled Alouach, Félix Maritaud, Noé Hernandez, Thibault Servière, Bastien Waultier, Bertrand Mandico, Jules Ritmanic. FRANCE
PIERCING – In Nicolas Pescès wicked and kinky black comedy PIERCING,. DIR Nicolas Pesce. SCR Nicolas Pesce, Ryû Murakami (novel). CAST Christopher Abbott, Mia Wasikowska, Olivia Bond, Laia Costa, Maria Dizzia, Marin Ireland, Dakota Lustick, Wendell Pierce. USA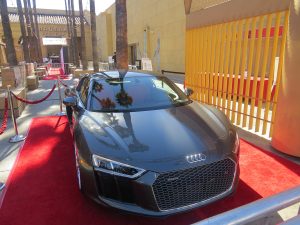 La Collaborazione di Audi come sponsor dell'AFI Festival ha consentito la possibilità di celebrare la storia del cinema e i suoi filmmakers ed cosi educare e istruire la nuova generazione di scrittori. Inoltre Audi offre la possibilità di pagare il corso all'AFI Conservatory per i due anni di scuola ad una donna iscritta alla regia. Questo è possibile poichè AUDI in America è riuscito a vendere quasi 227.000 macchine nel 2017.